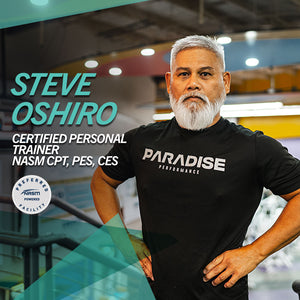 Sign up for a free consultation with Steve today and get your fitness campaign started. Steve is available at our Hagatna fitness centers. His 1-on-1 Personal Training sessions are designed to keep you on track with your goals. 
Steve Oshiro has 25 years experience in the fitness industry (15 years with Paradise Fitness). Steve has spent thousands and thousands of hours on the gym floor helping people from all walks of life realize their fitness goals and athletic potential. Steve is respected for his work coaching some of Guam's elite athletes, training them to achieve success at the highest levels of their sport.  But Steve will be the first to tell you that the vast majority of his experience as a trainer has been coaching and training the general population. The most fulfilling moments in his career has been working with everyday people, from mothers to beauty queens to the busy professional, helping them meet their individual fitness goals and improving their quality of life.
Steve's philosophy on training is to give his clients what they need and not necessarily what is popular or spectacular. He uses evidence based programming that addresses his clients fitness goals and abilities to help them realize long-term  success safely.
Whether your goal is to become a better athlete, get stronger, lose fat weight or transform you physique; Steve has the knowledge and experience to help you achieve your goals faster by eliminating the things that may not work best for you and implementing the things that do.
Steve recognizes that every "BODY" is different and programming should reflect this.
Steve is certified by the National Academy of Sports Medicine as a CPT, PES and CES. Talk with Steve about your personal health and fitness goals and learn how he can help you reach them. 
​​Jump start your goals with Steve with 1 on 1 Personal Training or small group semi-private training.​ ​Steve will customize an exercise routine that fits your needs and lifestyle.
PERSONAL TRAINING
- Training Sessions with the Trainer at Paradise Fitness Hagatna

- 24/7 Messaging 
- Customized Workout Program designed by your personal trainer
- Customized Meal Program